Willowgreen is an independent Lettings Agent, renting property throughout Ryedale and East Riding of Yorkshire. We offer lettings and property management services to landlords for property throughout North Yorkshire, guaranteeing a professional and personal service tailored to individual needs.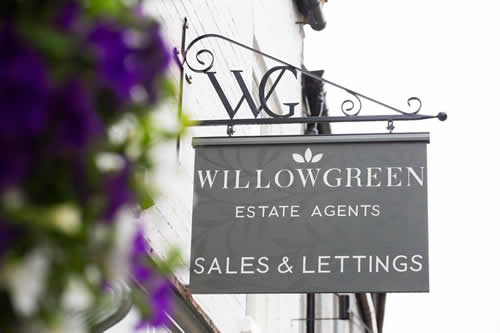 Willowgreen's certified Lettings Team has over 20 years experience in the local market, so understands how to attract, maintain and manage tenants. We pride ourselves on honest, achievable valuations and on prioritising service over cutting corners and short-term cost savings.
Whether the tenants are professionals, individuals, families or couples, our robust market knowledge enables us to price your rental effectively and ensure you the greatest returns and limited tenant-transition periods. We understand that first impressions count, investing in our own image and marketing output to promote your property through our custom shopfront, online portals, bespoke website and digital and print advertising.
We can also advise on legal, utility and safety requirements (including EPCs and gas checks), and offer access to our trusted network of local reliable contractors. Our comprehensive service leaves landlords assured that their tenants are content and that their property is being well maintained and cared for.
To discuss letting your property, or hear more about our personalised property management service, please visit us at our welcoming office in Malton, fill in our online form or call our team on 01653 916600.
Landlords Fees
Let Only Service
Our fees are £700 including VAT for this service and fees are only charged when we have found a suitable tenant for you.
Our fees cover: Advertising your property in the local press
Rightmove and as well as our www.willowgreenestateagents.co.uk
A 'To Let Board'
Conducting accompanied viewings
Obtaining references to assess suitability of tenants
Preparing a detailed inventory including photographs and metre readings
Drawing up the tenancy agreement
Collecting the tenants deposit and registering with the DPS (Deposit Protection Scheme)
We will arrange for the tenant to take up occupancy and then you will be their point of contact
Fully Managed Service
We charge a set-up fee of £500 including VAT and then a monthly management fee of 14.4% including VAT. This is the same as the 'Let Only' service above plus:
Handling any maintenance issues for tenants
Carry out inspections and report back to you
Collection of monthly rent and transferring to you
Renewal of tenancy agreements
Arranging for renewal of annual gas certificates
Check out inspection at the end of the tenancy
We are the point of contact and will look after any issues that may arise
Carry out inspections and report back to you.